Last weekend I woke up to some unexpectedly good news - I won a Feminist Porn Award!
Ms Naughty and I were awarded Best BDSM Scene for our collaborative film Instructed! We shot it in Toronto last year - just before the 2014 Feminist Porn Awards, as it happens. A BBC journalist covered the shoot - you can read the resulting article here.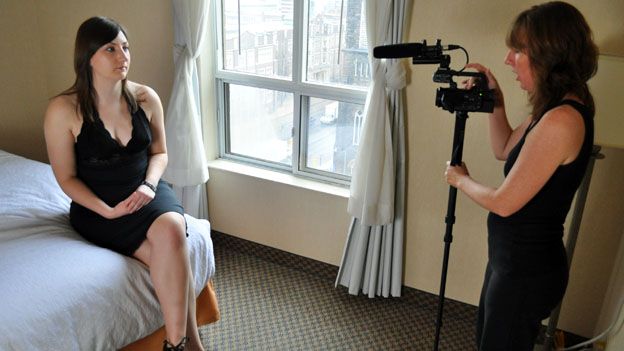 The idea for Instructed was one I'd had several years ago, but it was Ms Naughty and Luke's experrise as cinematographers that turned it from a cute idea into a visually gorgeous short film. Not to mention the unexpectedly intimate contribution of my boyfriend D, who surprised me by sending a real, honest-to-goodness set of dominant instructions for me to read and follow live on camera. He contributed his sexy voice to the voiceover as well.
This is technically a solo film, as I'm the only performer who appears on camera, but Ms Naughty has said in the past that it could equally be described as a couple film, because both D and I are present in the story (D represented by his voice, his words and the object of the letter) and it's all about the trust and intimacy that holds us together, even when we're apart.
Speaking of being apart, it's a bit weird to receive a Feminist Porn Award in absentia. When I attended for the first time last year, I didn't expect to win anything - I just wanted to meet people and soak up the ambience. I was planning to come back in 2015, but what with everything that's been going on over the last few months, travel has been the last thing I've been thinking about.
The moment I found out the Feminist Porn Awards existed, I've daydreamed about winning one. It became a life goal of sorts to raise my production values and ethical standards to the point where I could achieve international recognition from this influential and game-changing feminist porn institution, which is now in its tenth year. That doesn't mean I expected to do so any time soon.
I learned last year that the sort of immersive spanking fantasy film I make doesn't really have a place in the Feminist Porn Awards, which centres consensual, erotic, real-world experiences. I'm also well aware that I'm a self-taught film-maker producing web clips on cheap cameras, doing all my own lighting and editing. I produce a film a week and when I shoot, we can knock out six or seven films a day. Cinematic production values this ain't. There simply isn't time to go to town on each of them, and until I started going to film festivals, I didn't try.
The shoot with Ms Naughty was a bit different. Since we were sharing the content between Dreams of Spanking and Bright Desire, it had to include explicit sexual acts as well as spanking - including a female orgasm. We spent three hours shooting a ten minute short - and it shows. I directed the story and the action, and Ms Naughty directed the videography. It worked well, and I enjoyed working with her - it was a very calm, relaxed set, with all of us focussed on making the best film we could, even if we were shooting off the cuff in an ugly hotel room.
It turned into a genuinely hot study in female kinky sexuality and romantic dominance and submission - and since we released it last year, Instructed has been screened at the Berlin Porn Film Festival 2014, the Pornotopia Film Festival in Albuquerque, and the British Fetish Film Festival and Cinekink NY 2015. I'm absolutely thrilled to add Best BDSM Scene 2015 to its list of successes!
CONGRATULATIONS @pandorablake and @msnaughty for the Best BDSM Film @FemPornAwards #FPA2015!! pic.twitter.com/1napPWT1Yp

— Zahra Stardust (@ZahraStardust) April 18, 2015
Even in these unhappy times, with independent UK porn beset on all sides by government and financial institutions as well as by fundamentalist feminism, it's wonderful to know that radical, pleasure-centric, woman-centric UK porn is being recognised by the global community. I'm proud to represent my country at the Feminist Porn Awards and show that UK porn can be smart, ethical, and feminist.
Having my work recognised by the international feminist porn community has been an ambition of mine since I first began. Even if ATVOD succeed in getting Dreams of Spanking shut down, we'll end on a high note.
Ms Naughty has written a blogpost about the awards - her site Bright Desire also won a coveted Honoured Website award, which was well deserved. Ms Naughty also live-blogged the live stream of the awards ceremony. Here's the full list of winners:
Feminist Porn Award Winners 2015
Sexiest Short Wall of Fire - Lisa Ganser and Pachisi - The Madame
Smutty School Teacher Award for Sex Education Jessica Drake's Guide to Wicked Sex: Plus Size - Jessica Drake and Kelly Shibari
Sexiest Star Feature JL + DD: Jiz Lee and Danni Daniels - Jiz Lee and Danni Daniels
Most Tantalizing Trans Film BIODILDO 2.0 - Christian Slaughter
Hottest Newcomer Evie Eliot
Hottest Kink Film Love Hard - Gala Vanting
Heartthrob of the Year Morgana Muses
Golden Beaver Award for Canadian Content Queen Bee Empire - Samuel Shanahoy
Hottest Trans Vignette Trans Lesbians - Courtney Trouble
Hottest Straight Vignette Xconfessions Vol. 2 - Erika Lust
Steamiest Straight Movie The Sexual Liberation of Anna Lee - Jacky St. James
Hottest Lesbian Vignette Lesbian Curves 3: Soft Girls and Strap Ons - Courtney Trouble
Most Dazzling Docu-Porn Bound By Borders - Tobi-Hill Meyer
Best Direction Pulsion - Ovidie
Best Boygasm Heavenly Spire Volume 1 - Shine Louise Houston
Best BDSM Scene Instructed - Pandora Blake and Ms. Naughty
Movie of the Year Marriage 2.0 - Paul Deeb
Honourable Mentions

Alias and Knives - John Bee
Homance - Ajapop Films, Maxine Holloway, and Siouxsie Q
Fuck Dolls - Zahra Stardust and Emerald
Hello Titty - Skyler Braeden Fox and Idan Sagiv Richter
Honoured Websites