So far this has been a good year for Dreams of Spanking in the media. We've had a few mentions - even if the promised Guardian article which we spent ages chatting to Zoe Williams for never actually made it to press.
First there was this mention in the Sun newspaper: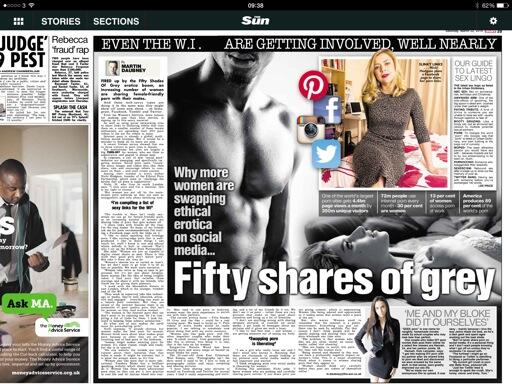 I can't link to the full article as it's pay-walled, but interviewee and journalist Nichi Hodgson has reposted the full text here.
Pandora Blake has a brilliant spanking website which shows you how to do it. Women like these more educational porn sites, so they can put it into practice in real life and let fantasy bleed into reality. Men tend to use porn in isolation, women want the porn experience to enrich sex with their partners.
I do have some issues with the gendered generalisations in that paragraph, which I explain in more detail here. But it was good to see a positive take on ethical porn for women, even in a conservative right-wing paper. And I'm glad our instructional videos are getting attention! We have two so far, both with Molly Malone - one on how to use the cane, and the other on effective communication and negotiation in spanking scenes. Let us know if you have any requests for future demos!
The second press mention was even more exciting - in a piece for BBC News Magazine on the Feminist Porn Awards this year, by Daniel Nasaw. It's a very positive article about the awards and the feminist porn movement, which mentions Dreams of Spanking performers Zahra Stardust and James Darling as well as the submissive solo shoot with Ms Naughty which Daniel sat in on.
"The internet has democratised porn in a big way," says Blake, who that morning shot a solo spanking scene with Ms Naughty, the Australian founder of BrightDesire.com. "It's empowered a lot of performers to produce their own content – it's empowering performers, which means its empowering women."
Finally, Dreams of Spanking and feminist porn are the topics of conversation in the latest spanking podcast, or "spankocast" by This Week In Spanking. Joe and I talked over Skype for an hour about the feminist porn awards, sexuality, queerness, diversity, my video with James Darling, the spanking scene, the new hardcore project I'm working on with Nimue Allen, and more. You can listen to the whole interview on This Week In Spanking. Enjoy!