Alex Reynolds has been staying with me all this week! It's been the best week ever.
I'd only met Alex in person once before, in Texas last year, but I instantly felt a strong affinity with her. That has been fully validated this week; the amount of stuff we've discovered in common is actually a little creepy. There's been lots of hanging out and talking until late into the night, and I love her to bits.
She's currently sitting on the sofa next to me finishing a blogpost, so I thought I'd take the opportunity to share some behind the scenes photos with you from our week so far.
There have been spankings off camera as well as on, including some #offchartbossing: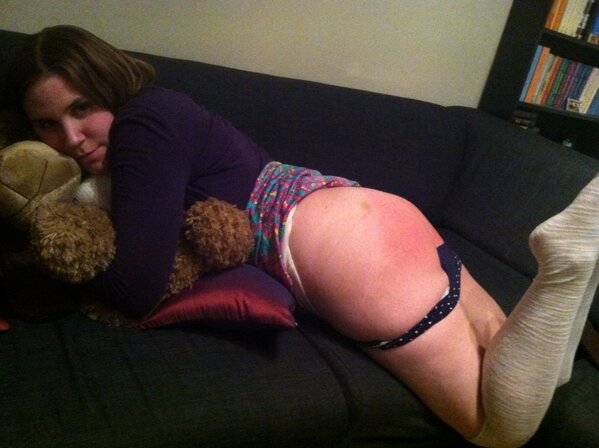 Alex being consoled by Fred the Dog after being beaten by me. I had my reasons.
I've got plenty more off-camera spanking photos to share, but I'll be posting those over at my personal blog, Spanked Not Silenced.
As well as spanking, there's also been a lot of conversation about kink, spanking and D/S, industry gossip and general hilarity, often revolving around my cat Fatface, to whom Alex has developed a deep and lasting attachment.
For the last two days, Alex, Nimue Allen and I have been shooting spanking scenes at my house, one day for Dreams of Spanking and one day for Nimue's World. Tom joined us for the first day, and I enjoyed introducing him and Alex.
The four of us had an amazing time shooting video and photosets. The Dreams of Spanking scenes included a girly sleepover scene, a Beltane ritual, intimidation by evil capitalists, a landlady/tenant punishment and Alex and I being spanked for building a sofa fort.
It was the best #sofafort ever.
During the shoot I managed to grab a couple more behind the scenes snaps on my phone. Here's Alex after shooting a photoset called 'Rites of Spring', wearing half her May Queen costume, and half fuzzy comfy clothes to get warm after I made her undress outdoors in the cold, not-actually-May-yet weather:
I am a cruel, sadistic director.
But so is Nimue, so that's okay.
I'll post some proper photo previews (ie. of the the actual spanking scenarios) once I've had time to process the pictures. (And then I need to catch up on previews for the shoot with Caroline, Amelia and Will. Yeah, I've been shooting a lot lately!)
For now, there's just one in-character photo I need to show you. This is my favourite picture from the whole shoot, and in fact from my entire life. The first two times I saw it I laughed until tears streamed down my face, and that evening even the memory of it gave Alex, Nimue and I the uncontrollable giggles.
In this scene, my cat Fatface is co-starring with Alex. "Don't look at the camera, Alex," I instructed, as Alex hurried with Fatface in her arms.
Fatface responded by immediately staring down the lens for the next three pictures. Fatface is not very good at taking direction.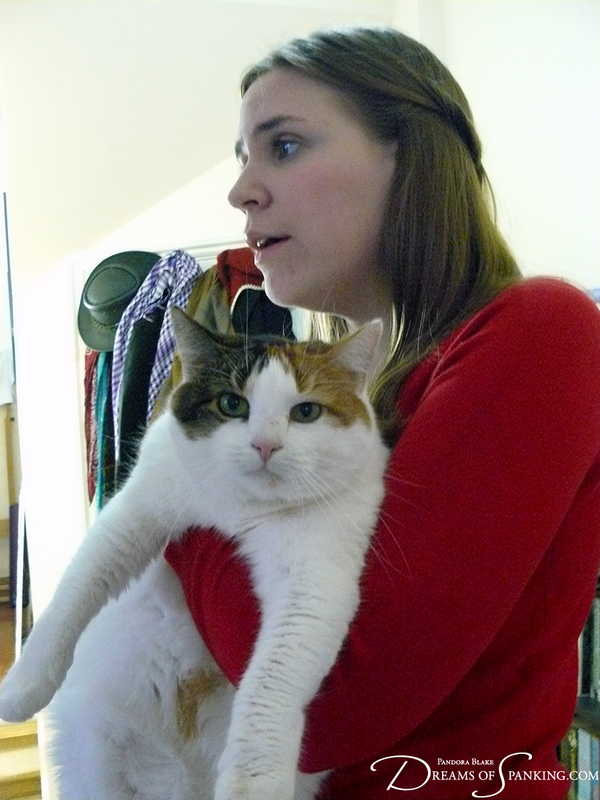 I don't think Fatface likes being a star.
Thanks so much to Nimue and Tom for being amazing behind and in front of the camera and for their general loveliness, and particularly to Alex for being so damn spankable. ♥